AR Quick Look allows users to preview 3D content in augmented reality without installing any app, by just downloading a usdz file from the web and placing the object directly in the AR space, your real world.
This built-in viewer that enables viewing usdz files is integrated as part of iOS 12 and ARKit 2.0. This technology allows easy sharing of 3D content and makes it very accessible for users to use it.   It's a very portable file format that allows content creators to share their 3D models through standard message delivery systems like Safari, Mail, Messages, Notes, News and other built-in apps that has support for this new AR file format.
USDZ files are viewable also as 3D objects without AR (called "Object mode") and therefore can be used on non-AR supported devices, but if you want to view them in AR, you need an ARKit compatible device running iOS 12.0.
Today I went to Apple.com try AR Quick Look at and try this experience myself. You can also try it yourself on this page if you have an ARKit enabled device running iOS 12.0.
The results where nothing but astonishing, even for an AR veteran like myself, this felt like a new experience. It's so easy to use, so accessible and the implementation is made so well, that it just feels like a "real" drag and drop, a drag from the web into your real world – almost felt magical.
Here is a video I took showing me toying around with Quick Look. Apple made it so well. You can see how seamless the appearance of the 3D model is. The object mixed with the real world fast but gradually with an animation and slight fading that makes it feel like it was pushed from the page into the real world. There is also haptic feedback that makes the experience even more immersive.
As you can see, I can rotate the object, resize it, and move it around using hand gesture on the screen. The object themselves were of very high quality. Take a look at the pot's high-res textures, it looks really impressive, even from up close. If you resize the object, you can double tap to return it to its original size.
The reason why the AR work so fast is because Quick Look already initializes the AR session and capture feature points when you are in the Quick Look main screen. The screen where you get to choose between AR or Object view. Sometimes it does take a few seconds until the viewer recognizes a surface. If it doesn't it will guide you through until a surface is detected.
The experience was super smooth and I've noticed no jittering whatsoever, it was buttery smooth and felt great.
Quick Look can be used inside apps and websites as well. I am really excited about the possibilities of using this technology on the web. Imagine shopping for products, and all you need to do is to click a button on the page to view the product in your own environment – amazing isn't it?
Created my own USDZ file
I used Vectary online 3D modeling solution to create a text with my domain name (ARcritic.com). I then used Vectary export utility to export the 3D text to a usdz file. Vectary sent me an HTML code that I can use on my website to allow users to preview the 3D text that I've created using Quick Look, so here is the USDZ file.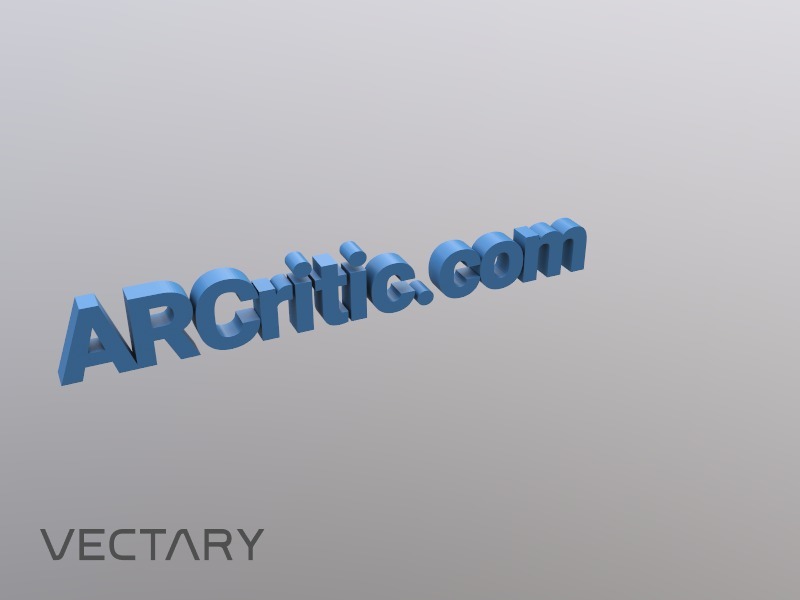 As you can see, it contains a thumbnail with the camera angle as I set it in the 3D modeling environment.
This is the first time I try to embed USDZ file on my blog. It's actually hosted on Vectary but if things go well, I will make some for my blog and host in on this service. This would be so cool.
Let's see how it goes!
Update: It worked!